Now, I'm trying to get my head around Bolivia a bit.
Here's a rough map of what I'm thinking at this point.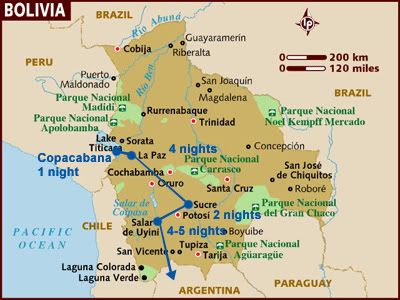 Locations and number of nights:
Copacabana
(1 night) - Mainly to see Isle de Sol.
La Paz
(4 nights)
Sucra
(2 nights) - Possibly one in Sucra, one in Potosi
Salar de Uyini
(4-5 nights) - Probably only one night in Uyini proper, then 3 to 4 nights travelling across Salar de Uyini to a town in Northern Argentina, where we can catch a flight to Buenos Aires, the next part of our trip.
If we do this itinerary, and the one from my previous entry, that will be 22 nights. Which means that Iquitos will be out of the picture, unless we decide to stay longer in Peru and Bolivia than the original 3 weeks we were thinking.
Buenos Aires probably won't take too much pre-planning since I've already been there once before. I figure we'll spend four nights to a week there.
EDIT: I've figured out that there are flights from Jujuy and Salta to Buenos Aires. Now its a matter of determining the viability of traveling from Uyini to one of those town via tour.
EDIT v.2.0: Asked on Lonely Planet's message board about Uyini to Argentina, and got this response:
From Uyuni it is easy to go to San Pedro de Atacama in Chile. From there to Salta there is a daily bus in summer, 3 times a week in other seasons. The scenery is excellent, salt lakes, volcanoes, colorful mountains, wildlife.

One more option is from Uyuni to Vilazon, then you walk to La Quiaca in Argentina, and take a bus to Jujuy. The airport is the same for Jujuy and Salta, with many flights to Bs As.

San Pedro de Atacama has a lot to see (Moon valley, Tatio geisers).

The road La Quiaca-Jujuy is also scenic, with interesting towns as Abra Pampa. Purmamarca, Tilcara, Maimara and specially Purmamarca.

The road San Pedro de Atacama-Jujuy is thru Purmamarca also, so don't miss this town from Inca times.

I think you can enjoy better if you stay 2 or 3 days in the region and less days in Buenos Aires, a big city like many others.