Apparently, he's at
the McLeod Residence
.
(Along with his beautiful wife, of course!)
The McLeod Residence is a new gallery/art space/soon-to-be lounge in Belltown. And my wife and I went to check it out during the miserable 32-degree rainstorm that hit Seattle last Friday evening.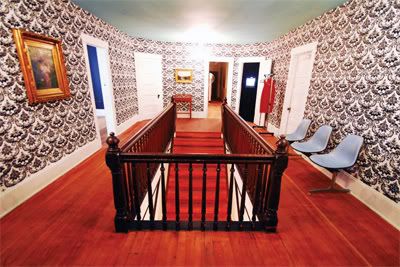 The idea behind the
McLeod Residence
is to make a gallery space that is more than a gallery space; sort of "club house" (or maybe "social club") for artists and artistic thinkers. It's the sort of idea that the optimist in me loves, and the pessimist in my thinks is doomed for fail. But, regardless of how it eventually turns out, it was a neat space, and I enjoyed both it and the art in it. Especially noteworthy was an interactive piece, involving a looped video of a cello player and a device that allows you to interact with it. ...and, yes, I understand that last sentence sounded like gibberish, but just trust me on this one.
Regardless, while I probably would have enjoyed the space for no other reason than to get out of the rain, I have to say that the entrance was entrancing. You enter through some unassuming doors and make your way up a narrow, dark wood staircase, until it opens up into a large room with ornately framed, old paintings and elaborate white and brown wallpaper that gives the entire thing a sort of wonderful Edwardian flare. And, you probably all know how I love all things Edwardian.
Speaking of which, I stumbled across this site recently:
Steam Wars
. Steam Wars is the brain child of Larry Blamire, who is notable mainly for directing the faux-B-movie,
The Lost Skeleton of Cadavra
(which, actually, I still need to check out). But, while the idea of paying homage to B-movies always works, I'm much more interested in the concept behind Steam Wars; which involves an alternate history in which soldiers in Victorian Era Europe engage in ongoing battle atop giant steam powered robots. Sort of a Steampunk version of Robotech.
What's not to love!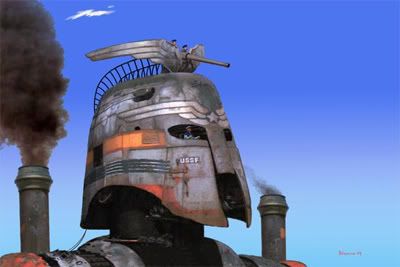 Anyhow, the
website itself
contains a variety of paintings, sketches and notes about the world of Steam Wars. But the whole thing is decidedly rough around the edges. Still, it's just enough to get my gears turning.