Although previous attempts to translate Alan Moore comics (he wrote the comics that the movies
From Hell
and
League of Extraordinary Gentlemen
were based on)to film have been somewhat of a failure. I have to admit that I'm a little excited after seeing the trailer for
V For Vendetta
.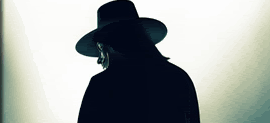 Advanced buzz has been positive, and it looks like they've kept fairly true to what I know of the comic. Unfortunately, I haven't read the series yet, so what I do know is limited. I'll have to remedy that sometime soon.
In the meantime, you should
check out the trailer
.