After reading through my South America guidebook, I started to get a rough idea of how the Peru leg of our trip may play out.
Here's a map I made up to help visualize it: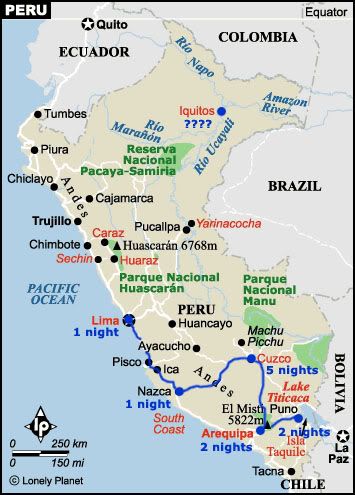 Locations and number of nights:
Lima
(1 night) - Just long enough to get our bearing and make arrangements.
Nazca
(1 night) - Basically a lay over on our trip to Cuzco. Plus a chance to see the Nazca lines.
Cuzco
(5 nights) - Our first extended stay somewhere. A chance to rest, and of course see Machu Pichu.
Arequipa
(2 nights)
Puno
(2 nights) - Mainly to check out the islands on Lake Titicaca. Then on to Boliva.
The main question mark is Iquitos. It's a large town in the middle of the Amazon Basin, that is only accessible by boat or plane. It's way out of the way, but seems really fascinating to me. Maybe we can fly to and from it from Lima, before heading south, and spend 4 or 5 nights there. Then fly out. But, I think I'll have to start looking into Boliva first, and deciding how much time we'll want there. Since I've already planed out a week and a half or so of Peru.