One of the pledges here, at General Admissions, is: We will do we can to cover all important ninja related news. So, it is with much pleasure that I present this story:
Last Ninja: 'Be Able to Kill Your Students'
It details the world's "last ninja," Grand Master Masaaki Hatsumi:
Hatsumi is the only living student of the last "fighting ninja," Toshitsugu Takamatsu, the so-called 33rd Grand Master who was a bodyguard to officials in Japanese-occupied Manchuria before World War II and fought _ and won _ 12 fights to the death. Legend says that during one battle, Takamatsu snatched an eyeball from a would-be Chinese bandit.
I looked up a picture of him, he seems suitably ninja-esque: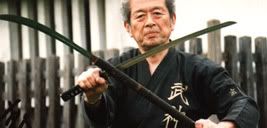 NINJA!
In un-ninja news, I've also had a couple other interesting things pointed out to me today. Including
102 Movie You Must See to be Movie Literate
, and
this thing
.