...no, not
that
Pope, silly! I'm referring to the popular indie comic book illustrator,
Paul Pope
.
There's a sort of beautiful ugliness (or, perhaps, ugly beautifulness) to Pope's work that I've always appreciated. And the level of success he's achieved by doing things his own way is pretty admirable. But, I was still presently surprised by how interesting his blog,
PulpHope
, is. Whether he's giving interviews to Polish magazines, copying articles about the effects of coffee, or just posting current art projects he's working on, Pope seems to be consistently adding something new to his blog on a daily basis. In fact, while it appears he's only been keeping the blog since the beginning of the month, I'm surprised by how much he's already posted. Often adding two or three entries a day.
Which is a lot better than I've been doing maintaining this blog. But, I'm blaming the holiday season. In fact, while out running around in the rain the other day, I stumbled across a book (at
Urban Outfitters
of all places) that I really need to add to my Christmas list:
(un)Fashion
.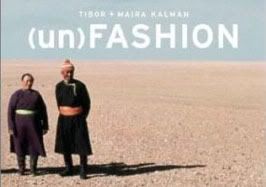 To quote the book description itself:
From cardboard shoes in Africa to body paint in New Guinea, from chimney sweeps in France to an Indian Elvis, (un)Fashion scans the globe to show how real people dress: at work, on the street, or for ceremonial occasions. With virtually no text, (un)Fashion pokes gentle fun at the elitism of the fashion world, presenting its provocative observations through dynamic images by some of the world's foremost photojournalists.
I was only able to flip through it for a minute or two, but it seems like it would not only be a wonderful coffee-table book, but would also be something that would be endlessly useful when coming up with sci-fi, superhero and other costume ideas in my sketchbook.
Speaking of interesting artistic references, I received
Blackstock's Collection: The Drawings of an Autistic Savant
for my Birthday over the weekend.
Gregory Blackstock, as the books title points out, is both autistic and an artistic savant. His art manifests itself in the form of detailed illustrated lists of everything from "the garden pest control beetles" (above) to "our states king sized jails." His dedication and skill is staggering in its ambition. And the book does a good job of displaying the breadth of his work.
Finally, I thought I'd point out the
Ninja Words
online dictionary. As it is subtitled: "A really fast dictionary... fast like a ninja." No longer am I bound to the slow-loading and clunky Dictionary.com. Yay!
Plus, I like to support all things ninja related.