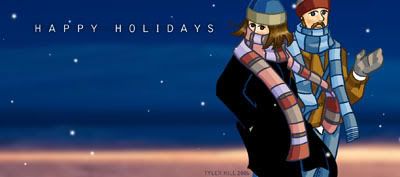 Here's the card that I made for my wife and I to send out to friends and family this year. My guess is that -if you are reading this,- you quite possibly received one, but just in case, Happy Holidays!
Or, Merry
Octophrost
, as the case may be!
If the whole "War on Christmas/Happy Holidays" debate is getting you down, I recommend you do what I think I'm going to do: Ignore the whole thing, and instead focus on how cool
Octophrost - Santa of the Sea
is! These little guys are the creation of
Futuregirl.com
and are, well, awesome.
Now, if we can just get him placed on the State Capital lawn next to a Christmas tree and Menorah, everything will be right in the world.
And, speaking of everything being right in the world, I'm not entirely sure that I'm right in the head this Christmas season. Instead of my usual desire to hear Bing sing
White Christmas
, I've found myself obsessed with
this song
. And, thanks to the wonders of YouTube, we can all bask in the video's 80's acid-and-eggnog glory ("God bless YouTube... everyone"). But, then again, I am simply having a wonderful Christmas time.
Hope you are all too.