On Friday my wife, brother and I went and saw what would be the Grand Finale of the Seattle International Film Festival for us. And what a finale it was!
The film we saw was actually a re-release of the 1927 film,
the Unknown
, directed by Tod Browning (of
Freaks
fame) and starting Lon Chaney (the original Phantom of the Opera) and Joan Crawford (in here only silent film roll).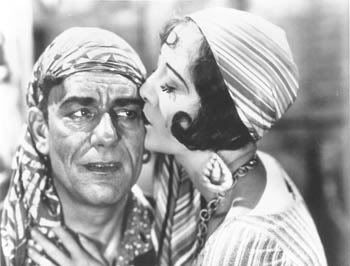 The Unknown
follows the story of Alonzo the Armless, an armless knife thrower who is madly in love with the beautiful Nanon, the circus ringleader's daughter who has a fear of men's hands. But, without giving too much away, the twists begin when it is revealed that Alonzo not only has arms... but also has two thumbs on one hand. What follows is a story of murder, sadistic surgery and circus strongmen. One of the best films I've had the pleasure of seeing in a long,long time.
They literally don't make them like they used to.
To make the experience even more memorable, the band
Portastatic
provided a newly composed soundtrack for the film. Playing with an extended band,
Portastatic
downtempo-yet-operatic sounds managed to be both experimental and timeless. I will never hear the song
Wild Horses
the same way again. Never.
While it's only wishful thinking, I would love it if someday the Portastatic score was made available. Maybe with a DVD release of
the Unknown
. Until then, I'll have to take consolation in listening to
Portastatic
on Rhapsody while I work.
The Unknown with Portastatic
(film, with live music)